How Milk and Turmeric helps in weight loss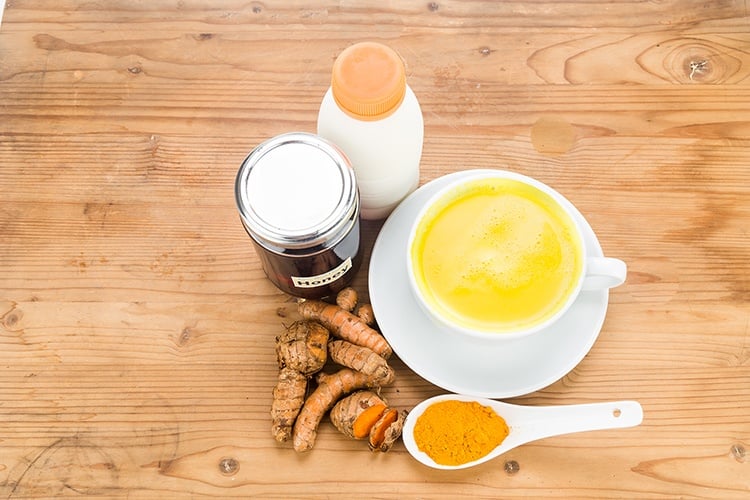 In this article, we will discuss how milk and turmeric helps in weight loss.
Nowadays obesity has become a life-threatening lifestyle disease. Therefore, weight loss has become a challenging goal for almost all of us. Hectic work schedule and consuming unhealthy junk food or fast foods is causing more threat to obese people.
There numerous products in the markets available that claim to help you lose weight. Few works and few don't at all work to reduce belly fat. But, what if we can find a very familiar spice in our kitchen? And the spice is potentially effective in reducing body weight. And the product is none other than a well-known spice "Turmeric".
If you combine milk with turmeric, you not any lose body weight but also reap several other benefits. In this article, we will discuss how to use milk and turmeric to lose weight. Moreover, you will get to know about several other benefits of this great combination.
Milk and turmeric for weight loss
Milk and turmeric are very familiar food items used in our day to day life. But you may be surprised to know that the proper combination of these two items can reduce your tummy.
Yup, it's a true fact. You may call it, HaldiDoodh or Turmeric Milk or Golden Turmeric Milk or whatever. Folkshave been using the combination milk and turmeric to lose weight since centuries. Moreover, it has been used as an antibiotic to kill harmful germs.
HaldiDoodh or Golden Turmeric Milk is a powerful ayurvedic Indian drink with medicinal properties along with weight loss property.
How to prepare turmeric milk
Turmeric milk which is also referred as golden milk is a mixture of dry turmeric powder or fresh turmeric rhizome or root with milk.
It's a traditional Indian drink used for treating a specific disease and also used as a general health tonic. It's very easy to prepare and highly palatable. So lets us try to understand how it can be prepared easily at home and what its main ingredients are.
1 cup whole milk or you can go for coconut or soy or almond milk.

2/3 teaspoon turmeric powder

1 teaspoon honey(optional)

1/2 teaspoon of black pepper powder for taste
Mix properly all the ingredients in a pan and give it a boil.

Wait for a minute or so and switch off the flame.
Drink it while it is still hot by sipping slowly.
DOSAGE OF TURMERIC FOR WEIGHT LOSS PURPOSE:
The dosage of turmeric on a regular basis for weight loss is not at all established till at present. However, as turmeric is a safe product for regular dietary use so it can be consumed with milk on an everyday basis.
So last of all, it can be said that turmeric consumption should be started at first little by little for those who not at all include turmeric in their diet every day.
At first, the intake should be a quarter or half a teaspoon per day for a week. Afterward, the quantity can be raised slowly by a quarter or half a teaspoon every week.
Turmeric milk touted for its many health benefits and often used as an alternative remedy for boost immunity and stave off illness along with weight loss.
Turmeric is one of the most nutrient rich herbs. Contain a good amount of protein, vitamin c, calcium, iron, dietary fibre, and sodium also. When combined with milk acts as a great weight loss ingredient.
How does turmeric help to lose weight?
There are many bioactive compounds present in turmeric and the most important one is curcuminoids, especially curcumin. These compounds provide turmeric with antimicrobial, antioxidant and thermogenic properties.
Turmeric can helps you to lose weight in various ways. Turmeric acts upon white adipose tissues and burns them. This is how it prevents the accumulation of fats in the body.
Turmeric or Haldi contains dietary fiber which helps in the prevention of weight gain and aids fat reduction also. And the protein and calcium present in milk is very high and can complements the properties of turmeric very well and in this way haldidoodh or turmeric milk at bedtime becomes very effective in losing weight.
It can also convert white fat into brown fat which can be burned by the body to release energy and not stored as fat.