The Hacker Ethic, Why Get Into the Skin of an Attacker
The hacker ethic
was created at the MIT (
Massachusetts Institute of Technology
), it is about values, moral and philosophical that hackers need to adhere to a standard.
This is what differentiates the hackers who seek to

fight

pirates who seek to

harm others

.
The distinction is

important
.
The journalist Steven Levy is the first to use the term

ethical hacker

in his book called Hackers.
He also defined the following rules:
The ethics of the hacker (ethical hacking)
Access to anything that might teach you something about how the world works should be unlimited and total.
Information should be free.
Do not trust authority, prefer decentralization.
Hackers should be judged on their achievements and not on criteria such as the age, origin, sex, diploma etc...
You can create art and beauty with a computer.
Computers can improve your life.
He asked also to the company to open its vision of the world on the hackers and to expand it to the planet and not just the small computer genius.
He is later followed by the hacker Loyd Blankenship that defines the hacker manifesto
.
More generally, we use the term 'hacker' ethics to refer to a true hacker who secures the computer systems, and not a hacker.
Why get into the skin of an attacker?
Hacking helps

solve problems

in many areas.
In programming, for example, it is not reinventing the wheel, you can access the details of a system to build something useful and effective.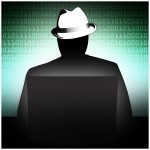 Applied computer security hacking allows to
secure its own systems and identity online
first understood how attacks.
From there, the ethical hacker known as
the hacker in the white hat
so put
in the skin of a pirate
to understand how it works, and to protect themselves.
We want to 'learn the attack to better defend themselves', and also used the term "offensive security".
The approach, inspired by the fire safety training, is standard in the middle of the hacking:
We
present
a technique inspired by a real case, it is explained and put into practice in order to
understand
the operating principles, and finally we will
protects
effectively against it.
Present

,

understand

,

protect
.
The approach is the same for the police: you learn techniques of thieves to catch them more easily.
Notes: practice attacks to understand publicly present a potential danger of malicious people who would use the information to their advantage.
As a result, the Blog of the Hacker will not provide a public details that would allow the realization of illegal actions.
Besides I have a revelation for you right now:
We often think that a
hacker
is a person
very computer savvy
, gifted and nomadic.
In fact, once we know their secrets, one realizes that all this did not extremely extensive knowledge, and we can defend by applying concepts simple and methodical.
Tags: the hacker ethic